Scoro's work management software helps agencies, consultancies and professional service firms streamline projects, simplify quoting, automate billing, and optimize utilization.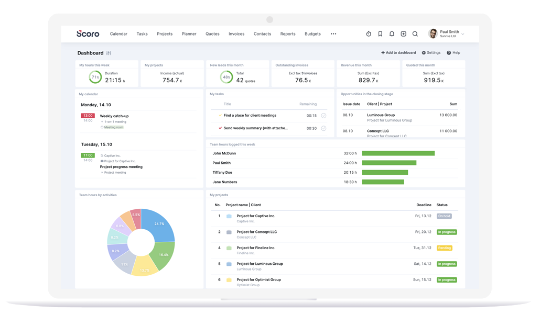 about us 
Scoro is an end-to-end work management solution that allows professional and creative services to control their entire workflow from one place. It helps to streamline work and eliminate routine tasks to ensure a business runs as smoothly and efficiently as possible – from sales right through to billing. Scoro's features include calendaring, task and project management, quoting and billing, enterprise-level reporting and a real-time dashboard.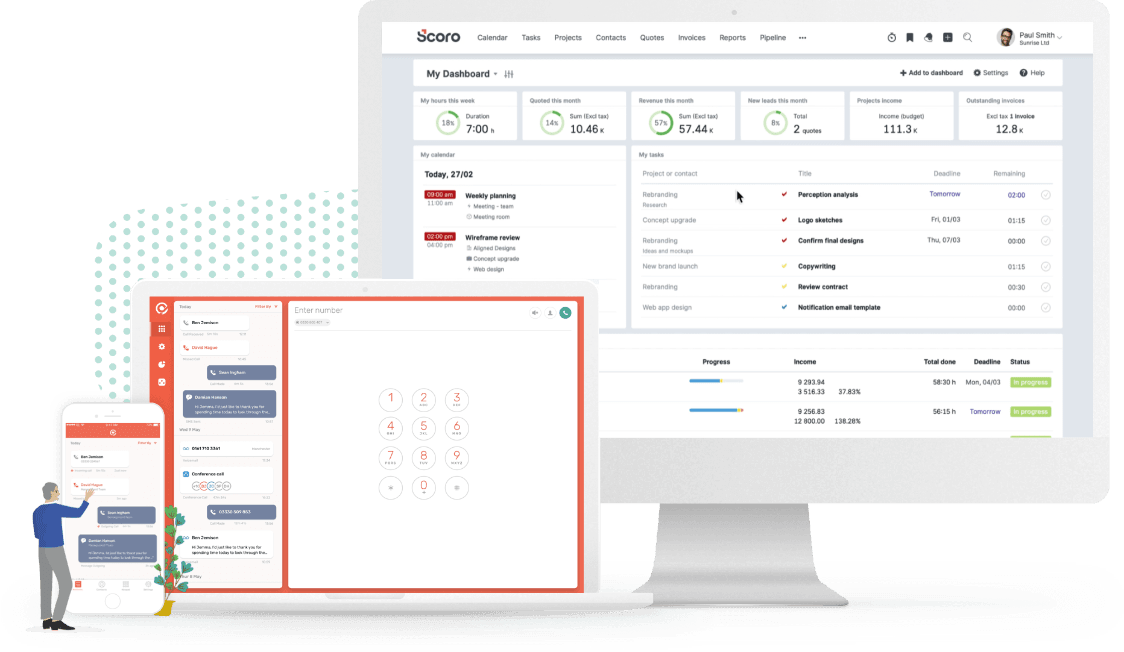 our history
Scoro was founded in 2013 with a simple idea: there's always a smarter way to get work done. It combines project management, CRM, billing, and reporting, all in one place. So your business can run as smoothly and efficiently as possible, from sales right through to billing.
What makes Scoro unique?
We all know time is money. So, why not track it as carefully as your finances? Unlike other solutions, Scoro's work management software doesn't just show you what your team is spending their time on – it also shows you what that time is worth.

Scoro not only helps you with project management, but with every aspect of your business, from planning your team's time and projects, managing your clients, sending invoices, and keeping track of your business results.

We specialise in:
Business Management

SaaS

Time Management

Collaboration Software

Work Management Software

CRM, Business Intelligence

Holistic Time Management

Project Management

Collaboration
Individuals that benefit from Scoro the most:

Project Manager
Account Manager
CEO / CFO
COO / Head of Operations
Sales Managers
HR Managers
Specialists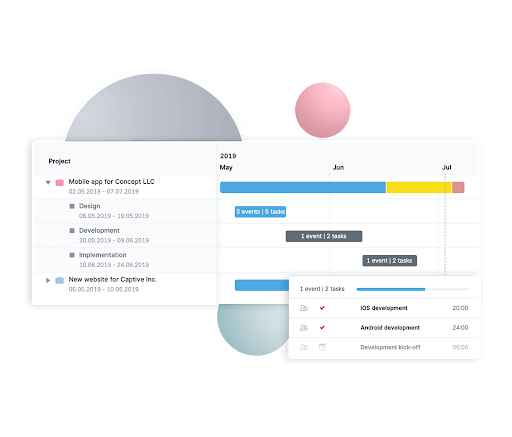 5 Most Useful Scoro Features
To get an idea of how Scoro works, here's a tour of the main features and how they can help you become more productive.
1. Project Management
Manage everything about a project on one page, including time spent and billed, planned tasks and meetings, invoices and expenses, comments, and files.
Allocate billable and non-billable work and see how your team is doing, in real-time.
Create budgets for projects and compare these against actual results.
Manage your project portfolio by configurable statuses (e.g. in progress, completed) and tags (e.g. type, department, market, etc).
2. Work Scheduling & Tracking
Schedule work and assign tasks with Scoro's Planner. It gives you an instant visual outline of everyone's workload, deadlines, potential overbookings & available slots.
Schedule meetings in a shared team calendar, and link all events to projects and customers for a 360-degree overview.
Track both the actual and billable time spent on a project or a client and transfer the hours to an invoice in a few clicks.
Easily see your team's hours as everyone's calendar events and completed tasks are automatically added to their work reports.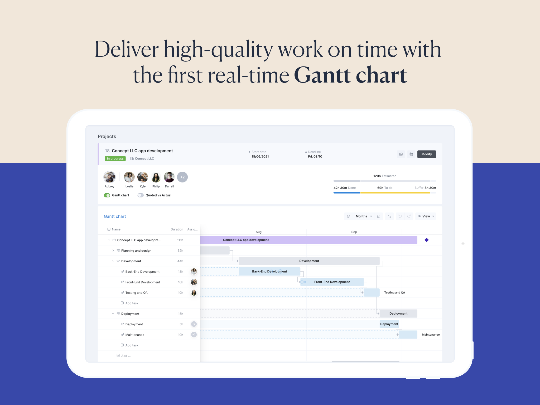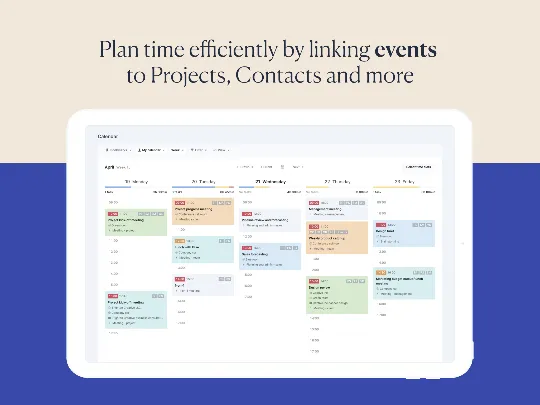 3. Financial Management
Automate late invoice reminders, scheduled, and recurring invoices.
Issue sales, prepayment, and credit invoices and send these as customizable PDF-files.
Keep track of your purchases and costs.
Compare several budget scenarios against actual revenue, costs, or profit and get forecasts based on scheduled invoices and booked deals.
Set multi-currency custom rates based on team members, clients, or projects. Manage your entire product and service library with custom price lists, margins, etc.
4. CRM & Quoting
Get a 360-degree of your contacts on one page, from the first "hello" to the final invoice. This includes contact details, communication history, projects, quotes, orders, and invoices.
Search, filter, and sort your contacts based on configurable tags, categories, location, latest activity, etc.
Get a visual outline of your sales to funnel and define closing probability rates for each stage in your pipeline.
Compile quotes and send them as beautiful PDF-files in just a few clicks. Turn any quote into a purchase order for a supplier or turn the services on a quote into tasks for your team.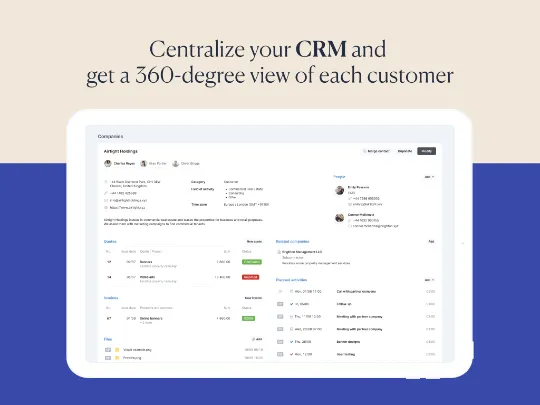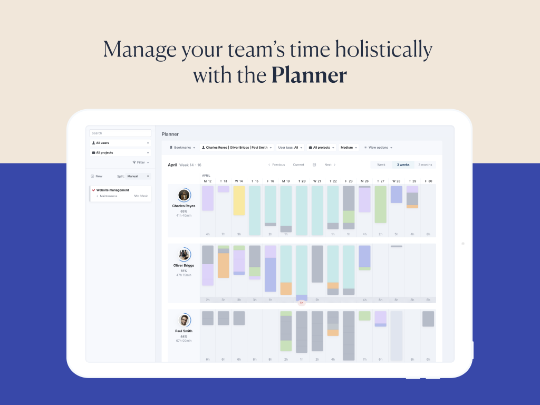 5. Reporting & dashboard
Make decisions based on facts, not gut-feeling.
Keep an eye on your KPIs, actionable items, and conversions—all on one beautiful dashboard.
Know exactly how well your team is utilized, and what their time is spent on.
Get a detailed overview of billable and non-billable work, delegated and unassigned tasks, completed jobs, upcoming deadlines, etc.
See how your projects are doing in real-time—what is completed, billed, left to do, etc.
Get detailed financial reports on actual results with the budget deficit and surplus.
Scoro Integrations
We know you're using dozens of different apps to get work done. And the shuffling and fragmentation are killing your team's productivity. Integrate Scoro with your favorite tools and supercharge the way you work.
Synchronize your Scoro calendar with your current calendar application.
Access your files right where you need them by connecting your file storage with Scoro.
Keep your mailing lists synchronized by connecting Scoro with your marketing automation solution.
Synchronize financial information with accounting software.
Connect Scoro with thousands of applications through Zapier to automate tedious tasks in your workflow.
Use our full-featured API to build integrations with almost any software solution.
Make the switch to empower your team.
Shift your way of working from reactive to proactive. Here's what will change:
BEFORE
Lose track of how much time and money your team spends on client work.

Use 10+ tools and spreadsheets that fragment your team


No overview of what your team is working on or how they are utilized

Run on gut-feeling, and experience hesitation and stress.

Shuffle between tasks and think of chaos as something inevitable

No clue how estimations compare to actuals.


Work on things as they show up
AFTER
Understand every aspect of both time and money, and optimize revenue-driving activities.App & Icon Design



Manage everything in a single end-to-end solution

Know what takes up your team's time, plan ahead, and avoid overbookings



RUN ON REAL-TIME DATA, AND GAIN CLARITY AND PEACE OF MIND

AUTOMATE WORKFLOWS AND FEEL THE POWER OF STRUCTURE

COMPARE PAST, PRESENT AND FUTURE RESULTS TO ESTIMATES IN REAL-TIME


WORK ON PRE-PLANNED TEAM-WIDE PRIORITIES
Don't just take our word for it
"We feel that we finally have a tool that enables us to grow – and that will scale as we add more people to the team."

Tyler Webb-Harding
Operations Director - StrategiQ
"As we hoped, we now have all the key business information in one system, and it all connects. We can now be highly accurate on project profitability."

Colleen Kelley
President - Stratford Group
"We looked at several tools, including Monday.com, Basecamp, and Asana, but none could offer the breadth of features that Scoro has."

"Scoro has enabled us to take our companies time-tracking on the next level – we've improved our time management 100% and as a result eliminate unplanned overtime."

Tycho Derks
Project Manager - Bombs Away
"Scoro creates structure for all our teams. Even our creative teams who may normally work in a more unstructured way benefit from using Scoro and can use their time more effectively. "

Stefanie van der Leegte
Managing Director, Shared Service Center - NOSUCH